Medical Finance by Nova
By doctors, with doctors, for you.
For more than 15 years Nova has been offering Kiwis flexible payment plans for life-changing treatments across a range of specialties including; weight loss / bariatric obesity surgery, breast surgery, mummy-makeovers or other types of cosmetic / plastic surgery, ophthalmology, laser eye surgery, fertility treatments such as IVF, and much more.
Nova is owned by doctors and works with many of New Zealand's leading specialists, so you can have access to world class surgeons and have your procedure right here in New Zealand. If you finance with Nova you can expect personal, discreet service and some of the lowest personal loan rates available.
Nova has a very close relationship with the medical profession, and the doctors and specialists featured on the Nova website are experts in their field. The surgeons and specialists who are affiliated with Nova are some of New Zealand's leading doctors and you can be assured that if you seeing a Nova doctor you are seeing one of the best.
Nova finances a wide range of medical procedures. We are happy to consider financing many others even if they are not listed. Our knowledgable team is available to help you pick a suitable doctor too, if you haven't already.
Applying for medical finance
Applying for medical finance can be done easily through our simple online application form. We'll get back to you within 1-2 days so that you can proceed with your appointment or procedure.
Applying for medical finance
Applying for medical finance can be done easily through our simple on-line application form. By starting an application we can quickly and easily let you know if you are likely to be approved, before you go on to complete a full application.
Apply Now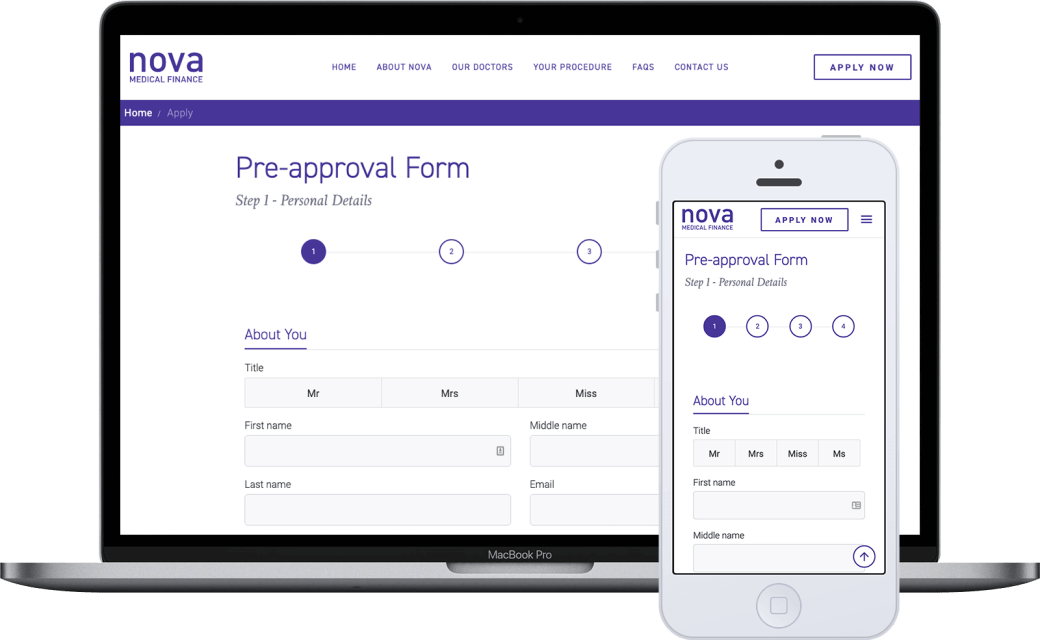 What our customers say
Thank you so much [Nova Medical]. Your service that you provided was indeed excellent. Throughout the process you were very helpful and informative and reassuring.
Thank you once again and will indeed recommend you to others out their wanting a loan for medical purposes.
Gen
Auckland
Dealing with Nova Medical has been a flawless experience from beginning to end. From the outset, communication was consistently responsive, clear and empathetic and I was incredibly impressed by the speed and efficiency of the entire process. Everything was transparent and well explained, and even in these times of uber-technology; their systems to get things done with minimal effort were next level. I am in the business of customer experience and this was gold star. I would not hesitate to recommend Nova Medical; not only because of the extraordinary service but because they are kind.
Deb
Auckland
Very impressed with Nova Medical Finance.. I couldn't have had a better experience! Phoebe was brilliant assisting me through each step, very friendly, prompt responses, always keeping me informed & up to date throughout! One of the most quickest, smoothest & easiest processes I have gone through. Highly recommend & will have no hesitation in using their services again in the future if need be A+++++++
Te Awhina
New Zealand